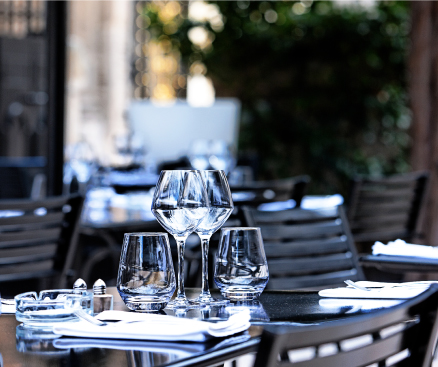 Restaurant The Court of Honor is a blend of time… The building , dating from the XVI century is classified as historical monuments and eras frescoes adorning the walls never cease to marvel…
With a new design redesigned by interior designer Christina Maurey The Court of Honor now combines history and modernity… The kitchen is a good working tool or the chef and his team will make you appreciate competence and creativity.
An effort has been made particularly on the furniture and tableware or black in any form predominates.
Nestled in one of the most pleasant courtyards of the city, sheltered from the mistral even in its more violent gusts, La Cour d'Honneur invites you to escape under his trees.
The furniture is all decked in black stone of Ménerbes was made to erase the rough terrain, a space was created for hosting group, a new energy efficient lighting and a fountain time were rehabilitated for an invitation to relaxation.
All of these improvements would be nothing without the natural shade of four magnificent old trees that provides a feeling of freshness when the temperature exceeds 30 degrees.
With a capacity of 140 seats, the Court of Honor is the perfect place for a romantic meal as well as for a seminar, a communion or a banquet…

---